Ornella Molon and Loris Traverso joined me on the radio with hosts Steve Jaxon and Dan Berger. Ornella Molon and her husband, Giancarlo Traverso are two of our producers in the Veneto and Friuli regions of Italy. 
Loris explained how his parents started in the wine business in 1982. Neither his father nor his mother had a background in wine. When his grandparents gave them a vineyard when they were married in 1977, they started making wine, first for friends and then professionally. When they registered the winery as a business in 1982 at the Chamber of Commerce in Treviso, it was the first time that a woman was put in charge of the company. People were skeptical of a woman in that role, but Ornella has had great succeess and in Loris' words, "My mom would say that she had to prove herself at the winery." She says it was hard but it was good because she had to prove herself to everyone. Her advice to other women in the wine business is, "keep fighting, show who you are, and show everyone your value."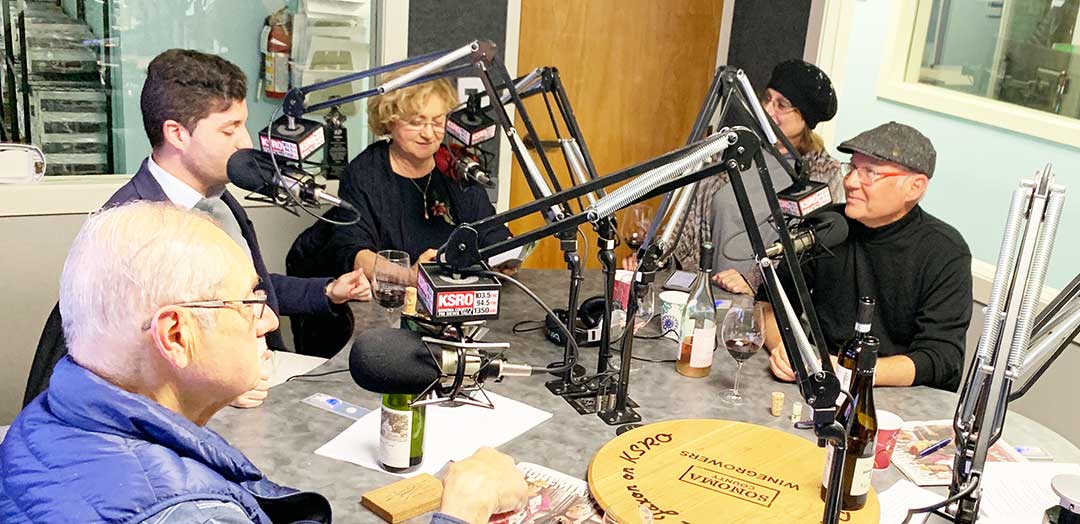 They are located in Treviso, a small city about 30 minutes from the city of Venice, in the Veneto region. Their villa and cantina, centuries ago, was the summer home of the Doge of Venice (English pronunciation is "dodj" and the Italian pronunciation is "DO-jeh").
Dan agrees with me that it is the small producers in Italy make these very fine wines. The larger producers in Italy are the ones who supply American supermarkets and those wines are nothing like these. Dan Berger explained that American supermarkets do not stock the kinds of wine that we import. Our wines are in some local restaurants (Riviera, Franchetti's, and Ca' Bianca) and at Oliver's Markets. They are also at Bottle Barn.
We first tasted a Rosato, which is Italian for Rosé. It is a 2017 and has light
bubbles. This Rosato is made from Cabernet Franc, which is a very common varietal in northeastern Italy. It is very dry and has very thin bubbles. Dan explained that you can taste the wine with the bubbles, then wait a while and the bubbles will go away, the wine is equally interesting but different.
The next wine is their newest release, a 2017 Pinot Grigio from their second label and cantina, Vigna Traverso in Friuli (in northeast Italy next to Slovenia). Steve
asked Dan how this Italian Pinot Grigio differs from the ones from California. Dan says that here, we start with much riper grapes, so we get more "florality" and are more alluring in the aroma department. However they have less acidity. Then there are two Italian styles, mass production and also cold climate small production. This is one of those cold climate wines that would go well with food.
Loris told about the vineyard. Ponca is the name of the kind of soil, called marl in English. They do not use any barrels here. They only use French oak for their red wines. Loris also explained that his mother and father each have a vineyard and winery. His father found and acquired a winery in the Friuli region in the early 1990s. They produce about 8000 cases per year, which is a fairly small production.
The next wine is a Raboso which is a unique variety indigenous to the Veneto in the
 area around the Piave River, where their cantina and villa are located. This is a 2012 vintage. It has strong acidity and it would go well with anything in a red sauce. It is hard to compare this to any kind of American wine. It was known as the traveling wine. Before refrigeration, the wine would last in the casks on long voyages.Ornella described Raboso as a varietal unique to the Piave region of the Veneto, which carries with it the history of the territory and its people. It is a very late ripening grape and is the last to be harvested every year. It makes wines of great distinction.
Loris added that Raboso never was affected by phylloxera, the plants are very strong. The skins are thick and crunchy, so they are the last ones that mature and they are the last of the harvest.
Listen to the complete episode here:
 Thanks to Chris DiMatteo for providing content and technical assistance.
---
---